W O R K P L A C E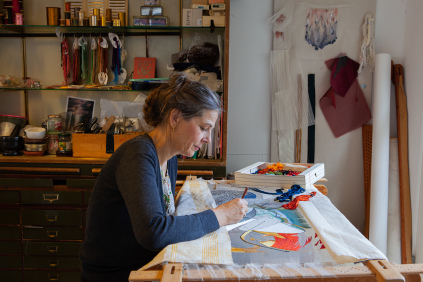 EMBROIDERY IS MY METIER
"My work is about decorating fabrics on cloths,
objects or tableaux. Embroideries are created
in collaboration with designers, tailors, artists,
scenographs, private, etc.
I finished the handcraft school in "Broderie d'Art"
in Paris in 1981, where I also had my trainy at the
famous workshop Maison Lesage.
With high technical skills in the Parisian Haute
Couture as the main workplace, I learned in a
young age the opportunities in earning art, design
and other areas.
From the workshop at Copenhagen in Danmark, I
execute embroidery on a 100 years old baptismal
dress, embroidery on unique couture dresses, stage
costumes and ecclesiastical textiles. Nothing is too
big or too small.
The workshop is richly equipped with materials
and tools and can also restore and repair older
embroideries, laces, rugs and other textiles.